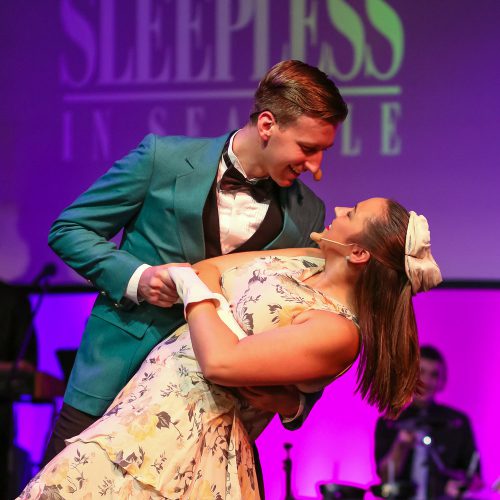 Wisconsin Singers
Featuring the top talents from the University of Wisconsin-Madison, Wisconsin Singers entertains more than 50,000 annually with stellar vocals, stunning choreography and spectacular big band sound from the past forty years.
Event details
Date
November 16, 2019 7:00PM
Description
Wisconsin Singers
Hold Onto Your Dreams
Wisconsin Singers, the University of Wisconsin-Madison's premier entertainment group, is taking the stage for its 52nd season show, Hold Onto Your Dreams with captivating vocals, stunning choreography, big band sound and Badger spirit performed by the UW's most talented students at the Grand Theater for one night only on Saturday, November 16, 2019, at 7:00 pm.
Wisconsin Singers' newest show, Hold Onto Your Dreams, is a 90-minute revue of top hits of American pop music from the past seven decades performed by the top talents of UW- Madison. The renowned Wisconsin Singers Band will have you dancing in your seats. Wisconsin Singers has a Fifth Quarter too, where Badger fans can sing along to Varsity, dance to Tequila and jam to Jump Around. There's something in this show for everyone of all ages and musical tastes to enjoy.
"We're thrilled to be hosting the Wisconsin Singers for an up-beat, entertaining night!" Dan Emerson, chair of Wausau West's music department, said.
Featuring opening performances by the Master Singers, Warrior Orchestra and the West Jazz Ensemble, this is Broadway-caliber show promises to entertain everyone from five to 95 in its spectacular 52nd season show. Join us on November 16, 2019, for the Wisconsin Singers' only appearance in Wausau.
Get your tickets now for an evening of spectacular song, dance, and big band sound. You don't want to miss the nationally renowned Wisconsin Singers as it celebrates 52 years of excellence. Tickets are available at the Grand theater for $13 each.
This performance is generously sponsored by Wisconsin Arts Grant/Greenheck Foundation, Ameriprise Financial (James Blakey, James Koehler & Andrew Jarvis), Nicolet National Bank, and American Family Insurance (Jonnee Bauer Agency.) All (100%!) ticket sale proceeds provide funding for Wausau West's annual Winter Concerts at the Grand Theater.
For more information, visit www.wisconsinsingers.com.
We're Sorry!
Tickets are not available online for this event at this time. Please contact The Grand's Ticket Office at 715-842-0988 for ticket availability information.